| Walk On Rates | Walk On With Officers Club |
| --- | --- |
| $25 Entry (includes air) | Free entry (includes air) |
| $15 Rental NO STAND ALONE TANK RENTALS – TANKS CANNOT BE REMOVED FROM RENTAL GEAR | Free Rental |
| $75 a case (2000 rounds) Includes Sales Tax | $45 cases of field paint |
Walk On Combo
$30 Entry, Rental, Air, and 250 rds. CAN ONLY BE PURCHASED IN PAIRS
$50 Entry, Rental, Air, and 500 rds.
$60 Entry, Rental, Air, and 1000 rds.
Field Paint only
Speedball
$55 per player – Entry and a case (additional cases $45)
includes all day admission ( Speedball field only)
unlimited air
$25  BYOP (no pink fill)
Walk-on play is for players who come to the field and do not have a private game.
We make every attempt to match skill levels and ages evenly (if you come with friends, there is a chance you may not be on the same team).
Walk-on play runs from 9am-4pm (gates open at 8 a.m.) and players can come and go as they want. The games are rotated around all of our fields and the open play referee picks games suited to the players.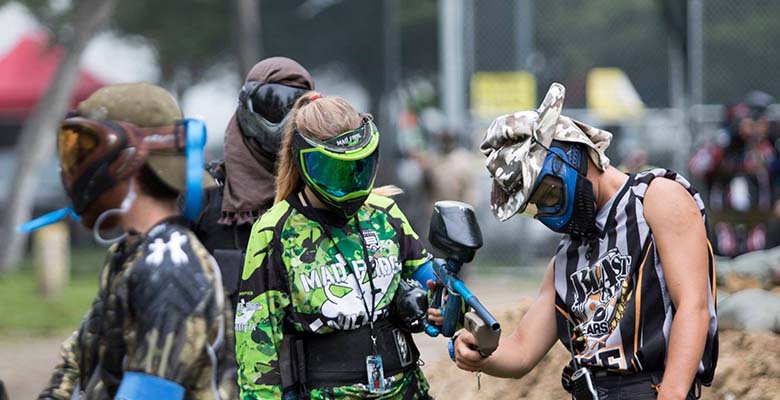 Boot Camp Special
(Great for Birthdays • Ages 8+)
8 player min
$300
500 paintballs per player
8 Players / 2 Hours ($35 each additional player)
(9:00am – 11:00am)
(11:30am – 1:30pm)
(2:00pm – 4:00pm)
Half Day
10 player min
$40/ player
500 rds per person
3 hours of play (9:30am -12:30pm)
or
(1:00pm – 4:00pm)
Half Day PLUS+
10 player min
$50/ player
1000 rds per person
3 hours of play (9:30am -12:30pm)
or
(1:00pm – 4:00pm)
Full Day
10 player min
$60/ player
1000 rds per person
7 hours of play
(9:00am – 4:00pm)
Includes entry, rental for those requiring it, and all day air
Private referee to direct and run games
$100 non-refundable deposit required when booking game. Private events booked Mon-Thur will require to be paid in full. Groups over 30 players will require a $200 deposit.
Private games can be booked as late as Tuesday but space is limited –
we recommend  a minimum of 1 week in advance.
Games played rain or shine.
Call (219) 947-7733 and book your game today
** – Groups will be charged for the 10 player minimum even if less than 10 players attend.
PRIVATE GROUPS FOR PAINTBALL
Private groups have a 10-person minimum.
Our Boot Camp Special has an 8-person minimum.
Each group is assigned a private referee that assists them throughout the day. Our referees are trained to keep the action going and keep things fun by playing on every field and playing a variety of games.
Suggestion for paintball birthday parties—try low impact! Great for ages 8 and up. Same paintball, less sting!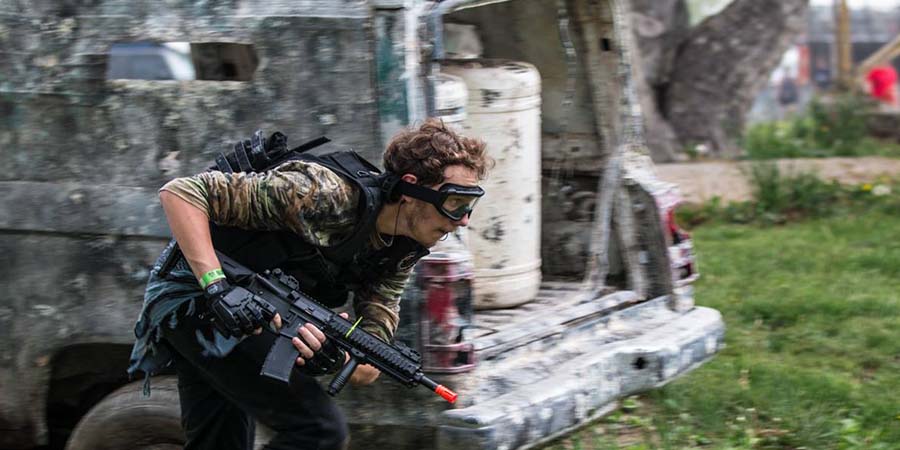 Private Parties
$30 per player
Rentals $30
Walk On Play
$30 per player
Rentals $30
Events
$35-40 per player depending on event
Rentals $30
PRIVATE GROUPS FOR AIRSOFT
Private parties: 10-person minimum. $30 per player  rentals available for an additional $30
Walk-on play: Features mission-based objectives that incorporate props in hundreds of different game modes. All times are 9 a.m.–4 p.m. Gates open
at 8 a.m.  
Events: Themed, full-day "ops" for hundreds of players. All times are 9 a.m.–4 p.m. Gates open
at 8 a.m.
Refs: Each group is assigned a private referee to assist them throughout the day. Our referees know every field and a variety of games. They keep the action going and keep things fun!
PAINT
| | |
| --- | --- |
| 500 rounds | $30* |
| | |
| 2000 rounds | $75* |
| Smoke Grenades | $10* |
* INCLUDES 7% Sales Tax
OPTIONAL GEAR
| | |
| --- | --- |
| Smoke Grenade | $10 |
| Frag Grenade | $10 |
| | |
WE DO NOT RENT TANKS. Players bringing their own gear must provide everything they need to make that gear safely operational
FOOD
Blastcamp offers a variety of concession options.
Chik-Fil-A
Hot dogs
Cheese/ Chilli
$6
$2.50
.50
Verona pizza
$3.00 per slice
Ice Cream
$1.00
Slushees
$3.00
Pretzel w/ Cheese
$3.00
Nachos
$3.00
Water

Soda, Gatorade

Energy Drink, Tea

$2.00

$3.00

$4.00
Extras
Propane grill is $20 to rent
We also have a refrigerator, electricity, and a grill for your convenience
OUR "MORE THAN FAIR" RESCHEDULING POLICY
If it is necessary to reschedule a private game you must call before the close of business the previous day (Wed-Fri, 4pm • Sat-Sun 4pm). If we receive that call, there will not be a charge to reschedule! Any games cancelled/ rescheduled after that time (i.e. call the morning of the game) will incur a $40 rescheduling fee. In the event of a no call/ no show the full deposit will be forfeited.
Testimonial
First time paintball today with family. Couldn't have had a better time. Definitely plan on engaging in the games to enjoy the experience. If not, stay home and play bingo. Getting hit stings a little. Wow! What an adrenaline rush! What a great experience! Looking forward to doing this again! Thanks Blast Camp, friendly crew, and ref!

I've been a customer for 30 years. Blast Camp gets better each year, with improvements and investment made by the owner to make it a great place to play. Paintball and airsoft events, fun big games, solid referees. Good place to take a group of kids for a birthday party in a private group. Recommended.

Great place to get some interesting physical activity in or have a group party. The staff are helpful and are serious about both fun and safety, and are always thinking of new ways to keep players entertained. They keep their store well stocked and bring in interesting vendors for their events.

Very fun! Went here with some coworkers and did a private group, definitely affordable for what you get. Large variety of different areas to have matches in, and a lot of different game types. I cant wait to go back!

Best paintball field in the Midwest, Virgil is an amazing field owner, and the reffing staff is the most professional staff I have seen in my 20+ yrs of paintball! Do yourself a favor and check out Blastcamp paintball and airsoft and get to play on a real historic NIKE MISSLE BASE!?

Blastcamp is by far the most family-friendly, safety conscience place I have ever played Paintball. The history makes the place cool the staff makes it exceptional. The personalized service is world-class! I would highly recommend this place to anyone.